Volunteers wanted: Help us study plant evolution in the Spanish Pyrenees!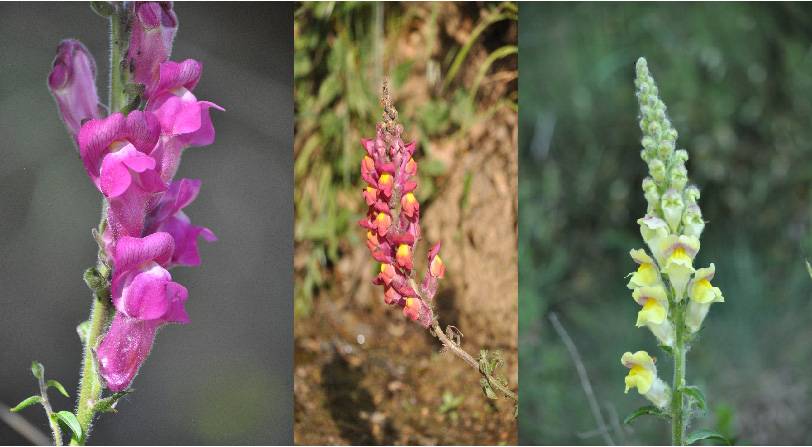 We are looking for volunteers to assist with fieldwork on plant speciation in the Spanish Pyrenees this coming summer (1st June – 1st August). This is a great opportunity for anyone looking to obtain experience in fieldwork related to evolutionary biology, speciation and plant ecology.
The project: We study evolutionary dynamics and speciation in snapdragons. The study—which has been running since 2009—involves field work on natural hybrid zones between two subspecies with different coloured flowers. The goal is to understand how different evolutionary forces — like natural selection, migration, etc— have shaped this diversity.
The fieldwork: We are seeking volunteers to assist with the fieldwork, which involves working in teams to map locations of individual plants (GPS) (the plants are primarily found on the roadsides), tag and sample them for leaves and flowers, measure traits, and process material for later DNA extraction. There may be opportunities to be involved in other projects focusing on pollinator behaviour and plant-insect interactions. The work is outdoors as well as indoors – about one-third of the of time will be spent indoors curating leaf samples and organizing/maintaining sampling equipment. The work is highly team orientated, typically in groups of 2-3 in the field and larger groups processing samples back at the research station. Since we aim to sample all living individuals in the hybrid zone during the flowering season, the daily workload can vary significantly. At peak season, we are often very busy and our daily routines change accordingly.
The location: The field site is near Planoles in a beautiful part of the Pyrenees in North Eastern Spain (Catalonia). We stay in comfortable apartments overlooking a picturesque valley, with close access to hiking trails and small villages.
The ideal applicant: is an enthusiastic, hardworking biology student with strong interest in working outdoors. You must be meticulous with recording data and also be comfortable working as part of a team. Experience with field-based projects and plants is helpful but not essential. Climbing experience is useful as a small amount work is conducted on ropes. We are looking for volunteers between 1st June and 1st August. We ask people to commit to stay for 3 weeks. Applicants must be located in Europe or the UK.
What we cover: All food, lodgings, Covid testing and travel within Europe/UK are covered.
How to apply? By the closing date of 20th March please send (i) your CV, (ii) a short explanation about why you are interested, and (iii) your availability between the above dates to field.volunteer.2023@gmail.com. Please send any questions to the same address.